Real Club de Golf de Sevilla is located in the town of Alcala de Guadaira, close to the banks of the Guadaíra river and the Parque Natural de Oromana nature park, its proximity to the city centre of Seville make it highly attractive as a complementary element to both green and cultural tourism.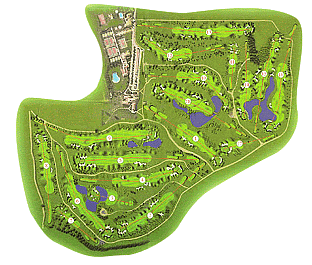 The highly balanced design of the 72-par golf course makes it an excellent venue for any high level competition, be it amateur or professional.
The extensive course designed with wide fairways sown with Bermuda grass, undulating Pencross greens, very well dotted by 90 spectacular bunkers and 9 lakes covering more than three hectares.
The course covers an area of 61 hectares and boasts over 10.000 trees what make it pleasant and challenging round.
A high upkeep level in the course is an emphasis. During the autumn an over seeding with Raygrass is done which guarantee a high-standard course for the whole year. Real Club Golf Sevilla is considered the third best course in the Spanish ranking.
Real Club Golf Sevilla has a practice course, large putting and chipping greens, floodlit driving range, children's golf school, 14 floodlit Astroturf courts, children's paddle tennis school, heated indoor swimming pool under a glass roof, large adults' pool with a floodlit garden for social events, children's pool, paddling pools, 9 floodlit tennis courts, children's tennis school, multipurpose room, gymnasium and 1 squash court.