La Monacilla Golf Course design fits perfectly with the natural shape of the land and this, together with the quality of the golf holes, means that the golf course is a great golfing challenge for players of all handicaps while still maintaining the beauty of a natural woodland.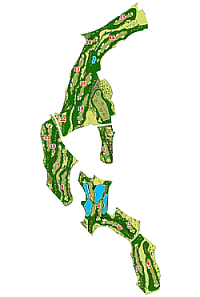 A feature of the design are the six tees on each hole, allowing each golfer to choose the layout that best fits to their level of play.
The strategic placement of the fairway bunkers means that each tee fits perfectly to the hole layout making the course an enjoyable challenge for golfers of all abilities.
The result of this fabulous golf architecture, combined with the superb course maintenance and the wonderful weather conditions found in the Huelva province, is a paradise for golfers.
La Monacilla, according to golfers themselves, is the reference point for great golf in Eastern Andalucia.