Playing the El Rompido golf course is an unforgettable experience for all golfers.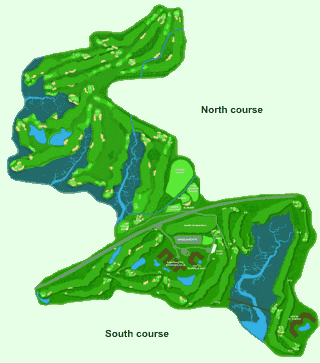 Text courtesy of the Andalusian Golf Federation
El Rompido Golf Club is located in the province of Huelva in western Andalusia, very convenient to the airport facilities at Sevilla, Jerez and Faro ( Portugal).
It is surrounded by the natural marsh area of Las Marismas del Rompido, with some splendid views of the Atlantic Ocean.
Golf el Rompido is the only 36-hole golf course in the region (including the north and south courses). Its two 18-hole courses, surrounded by pine trees and orange groves, cross the Marismas or marshes and make their way towards the Atlantic Ocean, providing spectacular views and a unique sensation for golfers.
Both of the courses, created by prestigious Spanish designer Alvaro Arana, represent a new concept in golf, where the fundamental objective is respect for the environment.
A total absence of buildings throughout the golf course means that nature is the centre of attention and manifests itself with all of its force, enveloping the golfer and creating unique sensations.