Quinta do Lago North Course, formerly Ria Formosa, offers different challenges for the player than the South Course.
Text provided by the Portuguese Tourist Office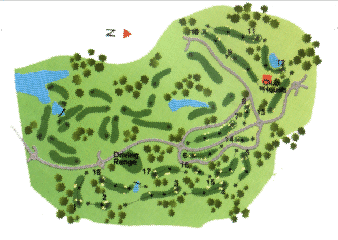 The terrain of Quinta do Lago north, formerly Ria Formosa, has the Algarve's sandy soil, covered by pine trees, heather, and wild flowers is identical to the south course.
It offers however, very different challenges. The course has four magnificent Par 5 holes. The Par 4 are generally doglegs, with the exception of holes 10 and 13. The Par 3 holes are influenced by the wind requiring very precise shots. In holes 13 and 18 lakes make a good score quite difficult.
The course was designed by several architects. William Mitchell was responsible for holes 1 to 5 and 15 to 18, while Joseph Lee and Rocky Roquemore designed the course from hole 6 to 14.
The fairways and tees are mainly covered with 'Bermuda 419' mixed to cold season grass, kept in good condition throughout the year. The greens, however are covered with Penn Gross Bent Grass, creating quick conditions and a regular surface.