Situated in an outstanding resort area with the background of the Ria Formosa Natural Park , the Quinta do Lago courses are famous in the international golfing world.
Text provided by the Portuguese Tourist Office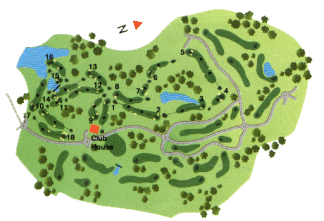 The Quinta do Lago Courses have four nine hole loops with sufficient flexibility to allow four eighteen hole combinations (all Par 72). A recent transformation divided these four loops into two different courses.
Quinta do Lago South, built over loops B and C, is still the most famous. This course, designed by William Mitchell and inaugurated in 1974, became world known after hosting the Portuguese Open on seven occasions.
The course allows the player to approach greens in very different ways. The most famous hole is number 15, a memorable Par 3 requiring a 200 metre shot right over a lake from the championship tee onto a green surrounded by pine trees.
Quinta do Lago is part of the Natural Park of Ria Formosa, an eco-system that hosts a great variety of birds.
It is part of a tourist resort of great quality, including excellent restaurants, bars and the possibility of complementing the game of golf with other activities.
Accuracy is needed on this course with trouble waing for a miss-hit shot.