Set in wonderful landscape, the Quinta da Barca golf course, near Esposende, is a very practical nine hole course.
Text provided by the Portuguese Tourist Office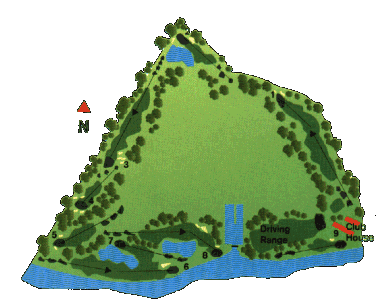 The Quinta da Barca golf course is part a tourist and residential development, including a freshwater marina. It is located on the right bank of the Cavado river, in Barca do Lago, seven kilometres from Esposende.

This is a nine hole course whose gentle design nevertheless demands some alert game strategy.

It is possible to complete a second round using different 'tees' and thus complete a full 18 holes.

It has six Par 3 holes and three Par 4s for a Par 31 over 4,024 metres.

Its outstanding features are undulating greens, strategically placed bunkers and three lakes that both render the game more challenging and enhance the natural beauty.

The course starts off in a tree covered area until hole number 5, with its fairways cutting through the pine forest. From that point onward, the holes are set in more open landscape, running near the Cavado river. The longest hole is number 3 totalling 339 metres.

Other holes also offer impressive sport: notable are hole number 6 (along the river bank), hole number 8 ( a dogleg to the right, protected by a lake, where any stroke overshooting the green will end up in the Cavado River) and hole number 9, which stars with a stroke over the river.

This course is featured in an article on the site of travelgolf.com written by their staffwriter, Carla Harvey, which is reproduced below:


"The nine-hole course at Quinta da Barca Golf Club is part of a resort complex and no less attractive for being so. Serving as a good example of well-controlled real estate development, its definition as a golf course is demanding of attention and a pleasure to play. Built alongside a freshwater marina on the Cavado river, it is a few kilometres from the village of Esposende. Alternate tees allow a further 9 holes for the golfer who insists a game is not a game without the full complement; an additional nine holes are under design at present.

Even as it stands, Quinta da Barca is a long course; just over 4,000 metres with three par 4 holes that make it an adequate challenge to keep golfers on their toes. No fewer than three lakes lend beauty and hazard to play. The first four holes are sheltered by pine trees while the others holes are riverside, running back up to the clubhouse. Perhaps the dogleg on 8 is the most demanding on the course: it is protected by a lake and the river; overshoot and the certainty is a watery grave in the Cávado.

Very popular with residents, the club house restaurant has an innovative menu and friendly atmosphere."