Oporto Golf Club is an authentic links established in 1890, and is one of the oldest golf courses in continental Europe. This makes it a club proud of its hallowed traditions.
Text provided by the Portuguese Tourist Office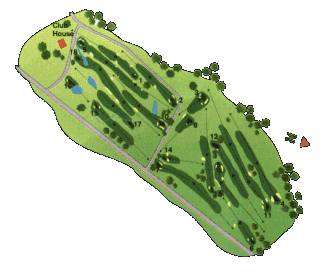 If one had to describe the Oporto G.C., in a single word, there would be no doubt which to employ: tradition. This course is located 17 kilometres to the south of Porto beside the beautiful beaches of Espinho. It is, after Pau, in France, the second oldest course in Continental Europe. It was established in 1890, when British residents in Porto created the club.
The course, an authentic links, is relatively short (5,668 metres for a Par 71). Its narrow fairways, together with the north wind, are the main obstacles, starting out with a difficult Par 4. In terms of challenging holes, one cannot forget number 11, a Par 5 of 494 metres, which together with hole number 4, is considered to be the most difficult on the course.
As if to balance the difficulties of these earlier holes, each of the course's two halves concludes with a very accessible Par 5 hole, providing some exciting endings for competitions.
The Skeffington Cup, which since 1891 has been played annually in the club, is the oldest competition in the sport to have been played without interruption.