The Santo da Serra golf course overlooks the bay of Machico, where the Portuguese navigators first landed on Madeira Island.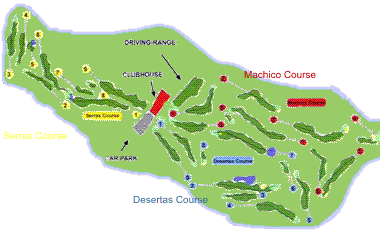 Information provided by Santo da Serra Golf Course
Its original course, built in 1937, was redesigned in 1991 by the famous golf architect Robert Trent Jones who created a completely new and spectacular 27 hole golf course in one of the most beautiful landscapes that nature may offer.
The 2nd and 4th holes of the Machico Course remain unforgettable in the memories of those who play there.
The Machico and the Desertas courses are the ones that are usually played on the Madeira Island Open, while the Serras Course slightly plain, and maintain the same game level.
With four optional tees at each hole, the player encounters different game levels which may either lead to a simple relaxing game or to a more challenging test.
Santo da Serra Golf hosts the annual Madeira Island Open, a tournament integrated in the PGA European Tour.
Golf stars, many of them Ryder's Cup players, are witnesses of the excellent quality of its fairways and greens. Semi-roughs and roughs provide evidence of the meticulous care given to the courses conditions.
A true botanical garden, ornamented with four beautiful lakes, full of trees that give shade from the brilliant Atlantic sun.
The Club provides buggies and trolleys, as well as buggy-bar service.