Palheiro Golf course in Funchal has magnificent views overlooking the town and bay.
Information provided by Palheiro Golf Course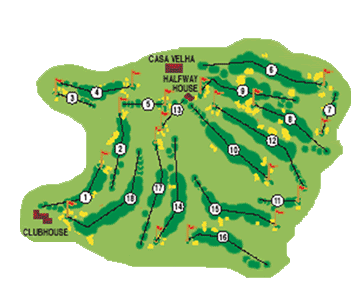 Nearly two-thirds of the course is carved out of pine forest and botanical woodland established over the last 100 years.
The 18-hole par 72 course is skillfully set in the estate and parkland of the Quinta do Palheiro.
Magnificent specimen trees and shrubs, lush vegetation and the splendid views of the bay and out to the sea have resulted in one of Europe's most beautiful courses.
5 par 3s increase the number of 'fun' holes over the customary 4.
There are 5 par 5s, the longest measuring 529 metres, and of the par 4s, the last two are the longest followed by a par 5 finish, only fitting for such a good course.
Fairway contouring and bunker positions will demand accurate tee shot placement to set up the best approach to the contoured greens.
Players will benefit from the numerous tees on each hole, and generous fairway widths.
Bogey golf, even par golf, is feasible for the average player. For the best combination of holes, Palheiro is designed as a continuous 18, like St Andrew's, Sotogrande and other famous courses.
The design has made full use of the hilly terrain which has been supplimented by ornamental lakes.
The trees, bunkers and water hazards give a demanding game that requires precision approach shots.