The Santo Estevao Golf Course is in the countryside of the Ribatejo region of Portugal, just 30 minutes away from Lisbon's international airport.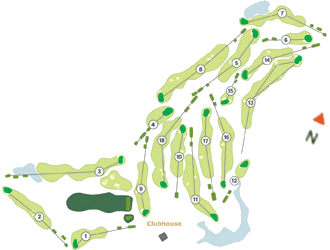 Santo Estevao is located in Vila Nova de Santo Estevao in a residential and tourist resort specifically designed for single-family housing, with large plots and extensive green areas and only 7 residents per hectare.

90% of the area is maintained as wooded countryside and no residential development has been allowed within the course.

In full harmony with the natural environment, Santo Estevao Golf's unique, typically Portuguese landscape of beautiful cork-oaks and wide open spaces bears testimony to the traditional cork harvesting and cattle rearing of the region.

With carefully designed bunkers and greens, the 18-hole course offers a delightful challenge to all standards of golfer. The gently undulating land is ideal for golf and makes for an easy, pleasant walk throughout the course. Conditions around the greens allow players to choose the best recovery shot, from low chip and runs to high pitches.

Notable holes are the 3rd with its drive over the first of the course's two lakes; the 7th, where the second shot is over the second lake, and the 11th with an outstanding view of the resort´s large new lake.