Beautifully manicured, exceptional layout set in the same cork forests as Riba One. A course well worth including in your itinerary.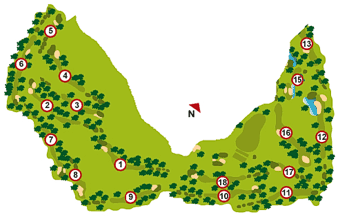 Text provided by the Portuguese Tourist Office
Because of the nature of its terrain, environmental characteristics and specific layout, this golfing complex rivals the best courses that Europe has to offer and occupies a third of the area of the Vargem Fresca Estate.
It consists of two courses, Ribagolfe I and Ribagolfe II, each an 18-hole par 72, and a vast practice course, which, besides a driving range, includes two pitching and chipping areas, practice bunkers and putting greens.
Considered to be a "sensational course", in which the natural element becomes an important part of the game and provides fresh challenges for even the most demanding of golfers, Ribagolfe already has its name included on the list of applicants to host events in national and European golf tournaments.
After finishing their round, golfers can enjoy the peaceful comfort of the fully equipped clubhouse, which also contains a restaurant serving some tasty specialities from the regional cuisine, or choose from amongst the wide range of leisure facilities, including horse riding and boating on the lake formed by the estate's dam.