With the Arrabida mountain range as its backdrop, the Quinta do Peru Golf Course is the latest of the courses situated in a region of Castles to the south of the River Tejo.

Text provided by the Portuguese Tourist Office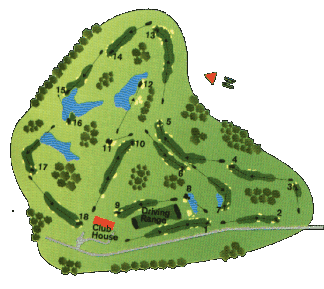 Quinta do Peru is the newest golf course to be built in the Azeitao region between the castles of Sesimbra and Setubal, which is well known for its palaces, wines and cheeses. The American architect Rocky Roquemore was responsible for the project and has designed a course for amateur golfers, but nevertheless representing a challenge for professional players.
The course, with its many trees and wild flowers, offers a varied start, for the first three holes are a Par 5, then a Par 4 over 386 metres, and Par 3 over 186 metres. Still on the first half of the course, hole number 8, a 190 metres Par 4 has a lake in front of its green.
The next nine holes are even more difficult. Take for example hole number 12, a Par 4 that, despite not being very long, has a lake running beside the fairway down to the green. Then comes, what is probably the most difficult test on the course, hole 16, a Par 3 over 200 metres, where one needs to get over a lake to reach the green.
After eighteen holes there are a number of golf related activities available and also a clubhouse providing excellent views over the surrounding landscape, with the imposing and beautiful Arrabida mountain range in the background.