Located in the Sintra-Cascais National Park, close to the Guincho beach and surronded by the Atlantic Ocean, Quinta da Marinha benefits from an excellent access to Cascais Villa an its restaurants, bars, shops, cinemas, entertainment areas and the new Marina.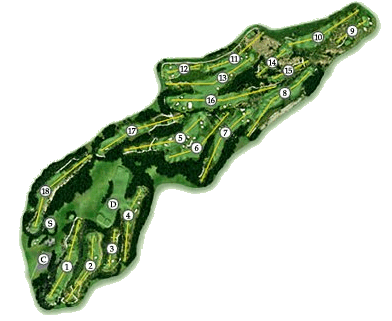 Oitavos Golf course is within the elegant natural framework inherent to Quinta da Marinha.
The routing is a continuous loop of holes, nine out nine in, similar to linksland courses in Scotland. The sequence is an undisturbed golf experience from start to finish. Distant views of the Atlantic Ocean and the nearby Sintra mountain are distinguishable from every hole. We are proud to say that each hole contributes to a cohesive statement and unique golf experience that know as Quinta da Marinha Oitavos Golfe.

As well as an exceptional golf course, Quinta da Marinha Oitavos Golf offers the finest facilities to practice and learn golfe.
The Driving Range is adjacent to the 1st tee. With 300 meters length and 5 target greens, it has a capacity of 60 players. The south tee north tees are reserved for coaching by professionals and its groups. The Short Game Area, is the vicinity of the Clubhouse, provides a double greens bunkers, fairway and rough areas. This variety of under lotions and surfaces provide a perfect location to practice short game skills.