Montado golf course is set in a flat terrain and the landscape is dotted with oaks and intersected by rivulets and small lakes.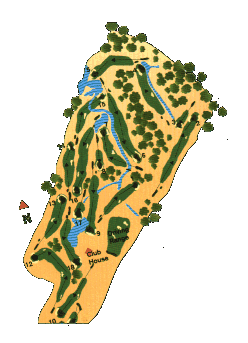 Text provided by the Portuguese Tourist Office
Close to Setubal, in a region with great opportunities for tourism amongst which golf is surely a highlight, the Montado course is surrounded by famous muscatel vineyards that were planted here more than a century ago. It was designed by the Portuguese Duarte Sottomayor, who began his career working with the famous Robert Trent Jones.
The course unfolds beneath old oaks and younger olive trees, chestnut and pines, planted when the course was first built, whilst around it wind creeks and natural lakes.
Some holes are unforgettable. Hole number 5, a Par 4 with a dogleg to the left, demands a good drive and for which the second shot is played onto a wide green protected by water. Another hole of great scenic beauty is number 13, a Par 4 that provides a great view over Palmela Castle and an excellent opportunity for a birdie.
On this course, the golfer is almost always offered two choices for playing the holes. The riskier option implies heavy penalties if the shot is not accurately hit.