Winding through the hills, Belas Clube de Campo provides an excellent view over the Sintra mountain range. To the north is the Penha Palace and Cabo Espichel on the south bank of the Tagus River

Text based on that provided by the Portuguese Tourist Office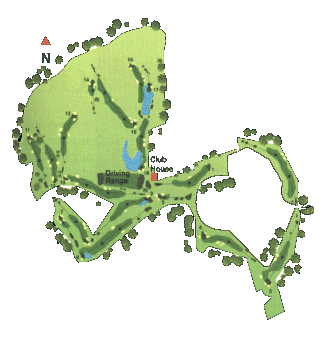 the course was designed by the renowned golf architect, William "Rocky" Roquemore, one of several projects in Portugal, the Belas course is between Belas and Queluz in Carregueira mountains. It has been perfectly integrated in Charles Franzman's master-plan for the Country Club's residential development of houses spread over the hills, with views over the golf course and the valleys, and fairways sheltered from the wind.
The course, a traditional Par 72, runs to 6,380 metres and is divided into two very different sections: the first crosses a naturally preserved landscape; the second runs by some houses that are part of the development, and has been improved by the planting of one thousand trees, mainly pine.
There are two holes notable for their beauty and their challenging qualities: the second hole, a Par 5 called Augusta, was built in homage to the 13th hole of the famous course where the Masters tournament takes place; hole number 18, a memorable Par 4 finisher, was christened "The Big Hole", because of the second stroke players must make some 180 metres from the green, which is well protected by a lake.