The natural beauty that surrounds the Vidago golf course, together with its cedars and oaks, moulded into a design by Mackenzie Ross and was re-designed in 2009 by Cameron & Powell Golf Design. All contribute to make this 18 hole course a very pleasant experience for every level of player.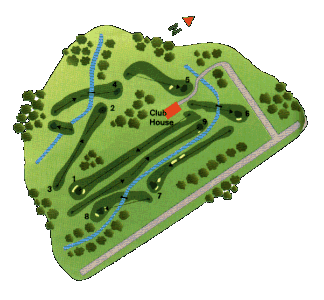 The extension of the golf course from 9 to 18 holes was developed to retain the integrity of the original design and to faithfully reflect the aesthetics, playability, spirit & character of the site. The first 9 holes are played in a relatively flat area in the Vidago valley, the last 4 finishing holes are breath taking, built on sloppy land with fantastic views on the adjacent landscapes, the Vidago Palace and the surrounding villages. The golf course layout was built in order to retain every valuable centenary tree.

The features of the golf course are the elevated tees and greens, were the tee boxes are built with stone walls, strategic pot bunker positioning, narrow fairways and greens that demand a sharp eye to read the slopes.
The course is situated in the far north of Portugal, some 15 kilometres from the town of Chaves. Designed by the architect Mackenzie Ross (who rebuilt the Turnberry course in Scotland after the Second World War). Vidago course was opened in 1936 and is part of the Termas de Vidago Park, the ideal place to restore one's energies after a day's work, while practising your favourite sport.

The course has eighteen holes.

A variety of vegetation surrounds the player, but the highlights are the pine trees, cedars and oaks. These alone provide a refreshing experience.

The Par 72 course covers 6,327 metres.

A stream makes its presence felt in the game at holes number 6, 7, 8 and 9 - this last hole being the longest (470 metres) and the most difficult on the course. The bunkers are well distributed and at holes 1 and 7 these are obstacles to be reckoned with because of their size and depth.