Despite its newness, the Praia D'El Rey golf course has quickly achieved important status amongst Portuguese golf courses due to its fascinating landscape.
Text provided by the Portuguese Tourist Office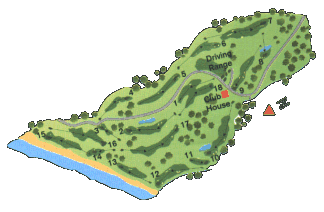 Designed by the American architect Cabell B. Robinson, the Praia D'El Rey course has the characteristics of an authentic "links". It unfurls itself mainly along a cliff looking over the Atlantic Ocean, allowing for views of unique beauty over the sea, dunes, lakes and the pine forest that dominates the local landscape. It is located near the medieval village of Óbidos and adjacent to the nature reserve at Berlengas Island.
The course is a Par 72 (6,467 metres) and carefully respects the natural terrain.
Especially over the last nine holes the player is able to enjoy some of the most attractive landscapes and challenging golfing situations.
The whole course, however, allows plenty of sporting variety. Worth a mention is the view over Berlengas at hole 2, the beautiful scenery at hole 11, the view over the Atlantic Ocean all along hole 12 and at hole 14, the challenges presented by wind variation. Hole 17's huge extension (570 metres) makes it the second longest Par 5 in the country and one of the longest of Europe.


This course is featured in an article on the site of travelgolf.com written by their staffwriter, Carla Harvey. The article is reproduced below :
"Praia d'el Rey is reputed to be one of Portugal's finest. Designed by Cabell Robinson, it is a championship course that boasts marvelous fairways and perfectly manicured greens. Even the bunkers are pro-active: left to their own devices, sunbathers tend to stretch out in them, risking the wrath of Caddie Master, Jim Lambert.
Roughs are made rougher by the presence of a sponge-like grass that insidiously attempts to digest anything that lands in it. Jim advises taking the strokes rather than adding up two-digit scores.
From Number 12 through 15, play is overlooking the Atlantic: sometimes windy, always stunning. The last three holes are all uphill to the 18th green and the way is not without potential disaster. A gap to the 16th green is narrow, requiring painstaking accuracy. Further challenge is added by Number 17, a 523-metre hole that is one of the longest Par 5s in Portugal; 17 is regarded as the most difficult hole on the course.
Before the end of this year, a golf academy with state-of-the-art analysis equipment will be in place. The teaching area will thus be concentrated in one area and it will be an imposing venue for sharpening skills.
Golfers should be aware that Praia d'el Rey's dress code prohibits the wearing of tennis shoes, jeans, tennis shorts, swimming trunks and t-shirts on the golf course."