Golf de Montebelo, the first golf course built in the Beiras region, is a mountain course situated in majestic landscape, with the Serra da Estrela and Serra do Caramulo as it's major landmarks.
Text provided by the Portuguese Tourist Office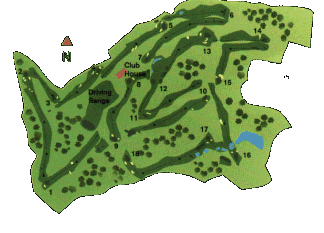 Running through 200 hectares, the Golf de Montebelo is set in a unique landscape with exceptional views over Serra da Estrela and Serra do Caramulo. It was designed by Mark Stilwell and Malcolm Kenyon to respect both the terrain's dimensions and its shape, and the result has been to make the best of the course's landscape qualities.
The mountainous course, spotted with gorse and heather, runs through pine and oak trees, over 6,300 metres. It is divided in two parts, named according to their main geographical landmarks: the Caramulo course (first nine holes) and the Estrela course (next nine holes). Dog legs, no less than eight of them, are typical of this course. The final sequence is unforgettable, the last three holes provide astonishing views over valleys, streams, hills, lakes and well protected greens.
The most memorable hole, however, is probably number 12, a long Par 3, running downhill towards its green, with a bunker on the left and a lake behind. This hole is considered to be the "soul of the course" because of its challenging physical characteristics and the unique landscape that surrounds it.