Golden Eagle is one of the most exclusive golf courses in Portugal. Its design is typical of the modern U.S. school and it is immaculately maintained.
Text is provided by the Portuguese Tourist Office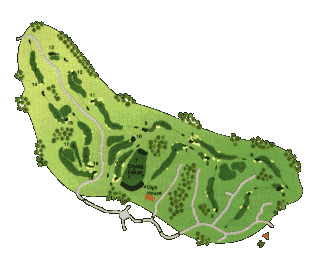 Situated near Rio Maior, some 60 kilometres from Lisboa, the Golden Eagle Golf & Country Club is one of the newest jewels of Portuguese golf. Formerly access was restricted to members and their guests, but since August 1997 it is open to visitors.
Designed by the U.S. architect Rocky Roquemore, the course covers 90 hectares, and is framed by a landscape in which beautiful local flora and gentle pines, decorative eucalyptuses and acacias all stand out. Its design is typical of the modern U.S. school, which means target golf is the most important point. The course totals 6,200 metres of championship tees for a Par 72 (37+35).
On the first round, look out for hole 6, a Par 4 of 354 metres, in which the golfer has to hit the second shot over trees strategically placed in front of the fairway. On the second round, pay attention at hole number 10 (354 metres). Here, in order to get a Par 4, the player has to make a second shot over the water onto a not very deep green.