This spectacular 18 holes golf course, set in a 149 acres area, was designed by Donald Steel, one of the most prestigious golf architects in the world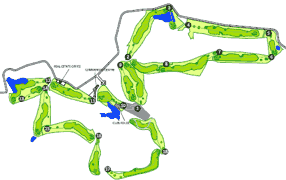 The Bom Sucesso golf course is an 18-hole Championship Golf course that stretches along the length of the resort shaping the housing centres.
The proximity of the sea and Obidos lagoon and the golf course itself, provide fantastic views which benefit from the extension and the natural beauty of the surroundings.
The golf course, designed by the world-renowned architect Donald Steel, a fact which offers guarantees of flawless quality at an international level, in line with the rest of the resort.
With an area exceeding 600 thousand square meters, the first nine holes are played on a level part of the terrain while the second nine are located on uneven terrain, and are therefore quite spectacular.