Located near the Consolacao beach in Peniche, the golf course of the Botado Tourist Centre is a good option for golf players in the centre west region.
Text provided by the Portuguese Tourist Office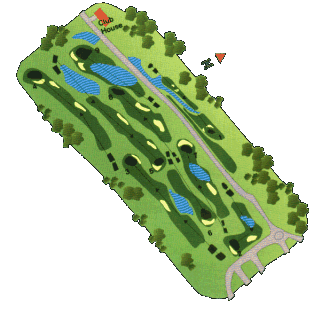 It has not been too difficult to transform a location of such natural beauty into a pleasant nine hole course. Built near the dunes of Consolacao beach, the course, with its six lakes and big bunkers runs parallel to the beach for two and a half kilometres.

There are plans to build nine more holes, though the existing nine holes, however, have different setting off tees, which means a second round, quite different from the first, can already be played. It is truly worth a game overlooking the Atlantic Ocean, Consolacao Fort, Peniche, Cape Carvoeiro and Berlengas. The fact that the course has been built around a juniper grove adds to its unusual beauty.

The course has clear "link" characteristics, and is demanding of players, especially in short shots, as the juniper wood has to be preserved and so balls may be lost.