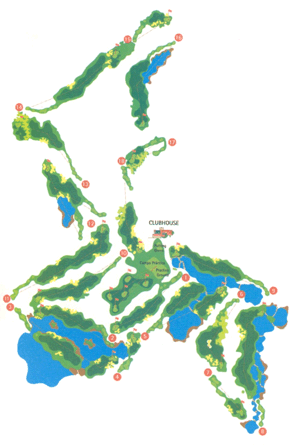 A recently opened course, Vicoria Golf, is becoming known as one of the best in Europe.
Text taken from ICEP
"Victoria Clube de Golfe" is a championship course of 18-hole par 72 course, occupying a total area of 90 hectares and with a total distance of 6,560 meters.
Every care has been taken to ensure the preservation of the existing wetlands, the typical vegetation of carob, olives and almond trees, and several lakes, occupying 13 hectares, providing mirrors of water and strategic reservoirs for watering purposes. With 5/6 tees per hole, wide and undulating fairways, extensive water obstacles and well positioned bunkers; Victoria will reward heroic and ambitious shots.
Another major attraction is formed by an exceptional driving range and by an enormous putting green area of around 2,500m2.
Playing on this course will become a unique and unforgettable experience, to any player. Arnold Palmer's most recent project in Portugal is destined to become one of the best and most sophisticated golf courses in Europe.
One extraordinary fact concerning Victoria is that the Palmer design team masterly created 18 greens with totally different shapes and sizes. This is one of the distinguishing characteristics of the course, and for which local knowledge will be an advantage.
Image: Lusotur Golfes