Nine holes from the Laguna course, together with nine newly built holes form the Millennium Course - opened on 13 May 2000.
Text provided by the Portuguese Tourist Office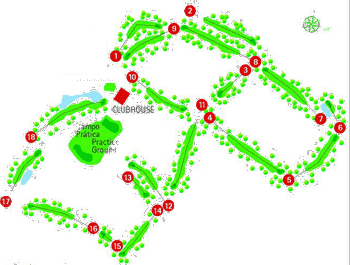 The course is particularly open, although some holes (the 3rd to the 7th) wind between pine trees and are similar to the neighbouring fairways of the Old Course and Pinhal.
In this more wooded area, the fairways are narrower and require greater accuracy - while the rest of the course has a clear landscape enriched by lakes at the 4th, 17th and 18th holes.
The arrival of the Millennium Course made Vilamoura one of the main - if not the main - European golf destinations.
The well-established UK golf Architects Hawtree & Sons were contracted to plan this modification and design work which has culminated in the creation of the new, exciting 18-hole Millennium Golf Course.
Refurbishment to the existing nine holes commenced in May 1999 and included the complete rebuilding of the tees, greens and bunkers. Changes were made to the layout or structure of the old nine holes, but several new design features were incorporated with a view to simplifying the strategy of the course and in order to make it more golfer-friendly.
This applies especially to holes 8 and 9, the only ones on this loop with water hazards. Also, many of the bunkers have been re-shaped and the smaller greens expanded.