The Laguna golf course is situated very close to the beautiful coastline of the Algarve and with water as a constant presence, this course gives an enduring challenge for any player.
Text provided by the Portuguese Tourist Office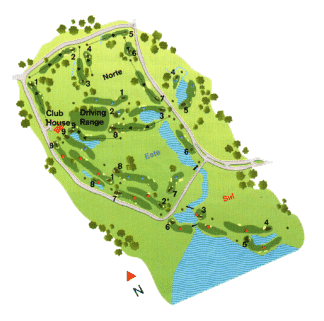 Opened in 1990 and designed by Joseph Lee, the Laguna Golf Course makes full use of the wet, marshy ground near the sea.
The layout is very different from the two other Vilamoura courses. Here the golfer can drive off more confidently, because of the greater width of the fairways.
Strategically placed bunkers are the main difficulty and water is a nearly permanent obstacle, not to mention the bunkers.
Lee may have designed a course that is visually intimidating, but as it is not very long, the golfer may complete it without great difficulty. The result is that the satisfaction for the golfer, after finishing his game, is even greater.
There are several ways to play this course, as one soon discovers at hole number 5 which is 315 metres for a Par 4, with a lake covering the right-handed dogleg. Here the player's options for the first shot range from a driver to a number five iron.
The player must reflect that by choosing a wood the second shot will be significantly shorter. But this also brings the water into play, so highly increasing the risks.