Vale do Milho is a short nine hole course which is visually very attractive and is coupled with a challenging nature. It is ideal for practising with short irons.
Text provided by the Portuguese Tourist Office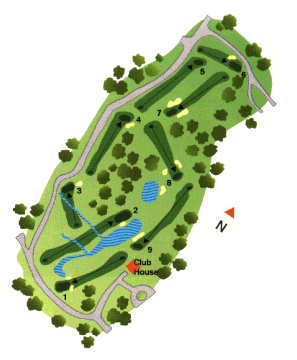 This is a short course with nine holes, all of them Par 3, designed by David Thomas. His most famous project is the 'Brabazon Course' at The Belfry, near Birmingham, England. That course has had the honour of hosting the Ryder Cup no less than three times, in 1985, 89 and 93. The world's most important golfing event, this is a biennial meeting of European and U.S. teams.
Many golfers will be surprised that a course just 970 metres long could be so complete and challenging, a real test for champions. In order to play this course to Par (27), you will face a series of obstacles from the first right through to the final hole. The distance and the difficulties posed by these Par 3 holes varies, but number 11 is the longest at 161 metres. The shortest is hole number 3, covering just 70 metres.
In addition, Vale de Milho, situated near Carvoeiro, is visually a very attractive course, with waterfalls and wonderful views over the sea.
So, if you want to enjoy yourself, practice your short iron shots and, at the same time take in the beautiful and relaxing landscape, then Vale de Milho will not disappoint you.