This is one of the most famous courses in the world because of its famous hole 16 (par 3), which requires a shot of more than 200 metres over three spectacular hills.
Text provided by the Portuguese Tourist Office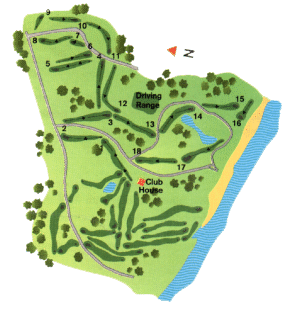 The 6,175 metre long Royal Golf Course has championship tees, and is a lot more difficult than the Ocean Course. This is because of its more interrupted terrain, the amount of water and sand obstacles and its generally longer holes. The original design is by Sir Henry Cotton. However, these days Rocky Roquemore's design trademarks are a lot more visible along the course.
The U.S. architect, very active nowadays in Portugal, has been responsible for the enlargement of the 'yellow' course.
The high point of the Royal Golf Course is its famous hole 16, Par 3, one of the most photographed in the world because of its unique conditions. To play this hole from the championship tee, one needs a 218 metre stroke over three spectacular cliffs to reach the green. It should also be mentioned hole 9, a Par 3, where the green is preceded by a lake. Water is also part of the game in holes 6, 16 and 17.