Known for the impeccable condition in which is it kept, Pine Cliffs is a 9 hole course which runs along impressive cliffs overlooking the Atlantic Ocean.
Text provided by the Portuguese Tourist Office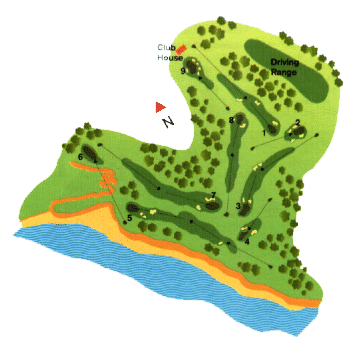 This is one of the country's most original golf courses, built in a pine wood at the edge of spectacular cliffs, overlooking the beautiful beaches of the Algarve and the Atlantic beyond. Opened in 1990, Pine Cliffs was designed by Martin Hawtree.
The nine hole course is not very long, only two holes run to more than 360 metres, yet despite this it presents an interesting challenge for the golfer, regardless of handicap. As well as concerning himself with the playing area, Hawtree was careful to leave the surrounding land undisturbed and largely as it was before the course was built.
The perfectly kept course opens with two undemanding holes, but the challenge gets tougher from the third hole, a Par 4 for which the drive must go through a narrow gap between pine trees.
After the fifth hole (the only Par 5 on the course) comes the crown jewel, a Par 3 with a championship tee built over a ravine that requires a 205 metre carrying shot right over the beach to land on a deep but narrow green.
For several years, the President of the club was the famous British motor racing driver Nigel Mansell.