Santo Antonio former Parque da Floresta is a course built on hillsides and over uneven ground with views over a fishing village. With a number of different obstacles such as bunkers, lakes and rivers, it provides a challenge of great diversity.
Text provided by the Portuguese Tourist Office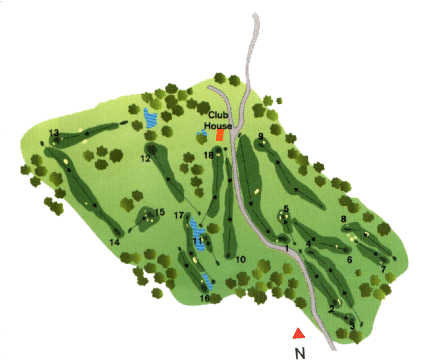 The course was designed by Pepe Gancedo, one of Spain's most famous architects, whose philosophy of golf course construction involves minimal alteration to the existing terrain.
Santo Antonio is the centre of a private residential development and its course runs over hills behind the fishing village of Salema, which is near the historic town of Lagos and not far from the Costa Vicentina Nature Reserve.
Its nine widely varying holes run through valleys and eucalyptus covered ravines while around the course olive, palm and pine trees are planted.
The first hole, 525 metres for a Par 5, faces toward the sunrise and presents a serious challenge for those intending to reach its green in just two shots. Hole 5 is a Par 3 over just 108 metres, but here the ball is only playable if it falls straight onto the green.
These first nine holes end memorably, for the third shot to the green must go over a river. On the second round, the highlight is hole 11 whose green is protected by water. Notable too is hole 18 which ends in an amphitheatre placed right beneath the clubhouse.
The clubhouse is typically Portuguese and provides spectacular panoramic views over mountains and sea, and also a general view over no less than eleven holes.