Golf course designed by Nick Faldo and inaugurated in 2008, located in Western Algarve, 4 kms away from Armacao de Pera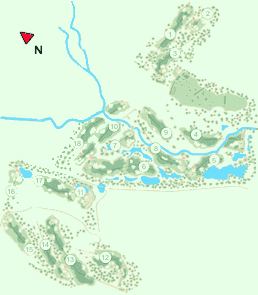 Inaugurated in September 2008 this golf course was designed by Nick Faldo with strategic play in mind.
The Oceanico Faldo golf course connects the two most elevated parts of the Amendoeira property. Strategy is an important factor to be taken into account as players have to be well positioned at each shot to achieve a good score. From hole number one, a challenging par 4, to the last one, a magnificent par 5, the hills and the undulating field provide a fascinating and demanding game in concentration and skill.
In the words of Nick Faldo, "the best compliment you can get in the design business is when players come off the course and say 'wow, that was a challenge,' and that's just what I planned here at Amendoeira".
The Course is just 35 minutes drive from Faro Airport along the A22 motorway, 4 km inland from the beach resort of Armacao de Pera.