Morgado is a new golf course with large greens demanding good putting skills.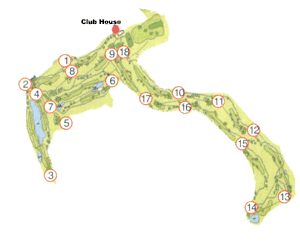 A new course to the north of Portimao.

It is set in a large estate with undulating land and small valleys and now has deep agressive bunkers.

The approach shot must be accurate to avoid the bunkers and the large greens need good putting skills.

It is a long course to challenge the big hitters.

The designers say :

"From a design viewpoint the course looks very tough, but it plays fair.

There are no forced 'carries' onto any greens, which means there are no obstacles, like bunkers or water bodies, that are completely in front of a green; there is always more than one route to get on the green.

Wind, as is usual on the Algarve, will play an important role in the challenge of the holes.

It's a flexible course in that there are various pin positions on the greens that can either soften a hole or, make it more testing and dangerous".