A gently undulated 18 hole course with sculptured greens requires precise and demanding shots.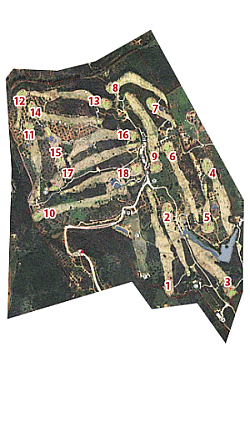 Espiche Golf is set in an Ecological Reserve providing a great golfing experience within a stunning natural environment.
Golf course architect Peter Sauerman designed the course to integrate into the surrounding scenery.
Golfers who value charm, variety and challenge in their game will appreciate the many subtleties of this par 72 course.

In summer time the course is a vivid shade of green while in mid-winter it goes a browner green. This is because it lays dormant during the season of maximum rain fall when the temperatures are lower. The grass changes it's color but not it's playability.
By not needing to be fertilized or watered during the winter season the grasses on the fairways act in harmony with the existing landscape by helping to reduce run off, stop erosion, and in the sustainability and replenishment of the aquifer.
The grass on the greens is Paspalum and elsewhere, including the fairways Bermuda grass has been established. This ensures a playable sustainable course that is environmentally compatible and enriching to the existing Western Algarvian Mediterranean landscape.

A full range of facilities will be available at Espiche Golf as well as neighbouring Espiche Golf Village. Future plans include a outstanding Clubhouse with bar and restaurant, Pro Shop and putting green.