Balaia golf course is only nine holes but it is a great challenge for all handicaps. The course is designed to test ability and control of length and direction.
Text provided by the Portuguese Tourist Office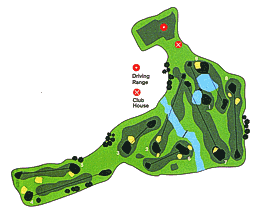 The newly open 9 hole executive course is destined to become one of the Algarve's golfing gems.
This is a course to test every golfer, irrespective of handicap. You can go out and play eighteen holes to concentrate on your short game, without the drilling which time on a practice ground sometimes implies. Alternatively, you can just play nine, leaving plenty of time for things.
Tee to green distances on the course range from 67 metres to 160 metres.
Though aesthetics are not exactly what golf is about, what you see from the first tee is indeed a pretty sight. An old wooden bridge divides two lakes just in front of the first green and, with the magnificent clubhouse just behind you, hole number one is an opening hole to test the nerves.
Amenities include a 60 base driving range, managed by a well known international Pro, covered bays for all-weather lessons or practice, practice bunkers, chipping and putting greens.
In the beautifully appointed clubhouse you will find a pro shop, reception, club hire, trolleys and rental locker facilities not forgetting a large sunny terrace overlooking the course, and a restaurant, with a capacity for 120 guests.
Every week, on Wednesday afternoons, a 9-hole individual Stableford tournament is held, followed by a glass or two of cool Sangria. These events are open to all golfers.