Pinhal golf course, built in the middle of a pinewood, brings together two very different architectural concepts – British and American. In 1988 it was selected for the Portuguese Ladies' Open, an event that forms part of the women's professional European circuit.
Text provided by the Portuguese Tourist Office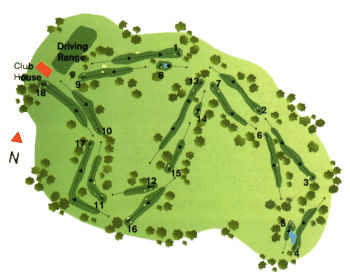 Inaugurated in 1976, Pinhal Golf Course was originally designed by the Briton Frank Pennink. Later, 1985, it was partly redesigned by the North-American Robert Trent Jones, who introduced new challenges into the course.
Trent Jones' work has given the course a great variety of holes as he brought together two completely different architectural concepts, British and American. As a result, the golfer is confronted by very different kinds of play. Built in the middle of a beautiful pine wood, with panoramic views over the sea, one of the main characteristics of this course is the small size of its greens, requiring great precision from the golfer in terms of approach shots.
Hole number 17, 502 metres for a Par 5 from a championship tee, offers players the chance of a birdie, or even an eagle for golfers who risk driving off over the out-of-bounds zone to the right, thereby drastically cutting through the fairway accentuated dog-leg.