Penina was the first golf course to be built in the Algarve. It is a Championship Course and is considered to be the masterpiece of Sir Henry Cotton. Penina has hosted several of the Portuguese Open Championships.
Penina also features two 9 hole loops : The Resort Course and The Academy Course.
Text provided by the Portuguese Tourist Office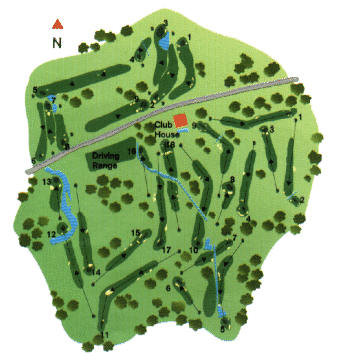 Situated in the heart of the Algarve, the Penina Championship Course is considered the most brilliant project of Sir Henry Cotton, triple champion of the British Open who became a golf architect.
This was the first golf caurse to be built. back in 1966. The experienced Cotton was one of the first to recognize the Algarve's huge potential as a golfing destination.
The quality and the success of this course encouraged the subsequent construction of many other courses that now exist in the region.
The championship course opened in 1966 and has been completely rebuilt during 1994/95, maintaining its main original features.
It is a fairly flat parkland type course with almost four hundred thousand trees, plenty of water, many bunkers, with wide greens and a vast tee area, making this a real championship course.
A new lake has been built to protect the green of hole 5. The undulations on the fairway of hole 9, five new bunkers together with more water around the green of hole 13 (which became a small island), deeper bunkers and new tees are features added to the original layout.
Penina also features two 9 hole courses by Sir Henry Cotton: The Resort Course, a pleasant Par 35 with 2,987 metres; and The Academy Course, a Par 30 with 1,851 metres.